"The Future from the past"; as quoted by Vianney Halter regarding this watch. Due to the unique portholes in its design, it's also called as Captain Nemo's Watch. A perpetual calendar has been incorporated into this watch.
The 4 dials:
•The Upper Dial: To show the time
-Mini Dial: The Date
•Upper left dial
-Displays the day i.e. Monday (M), Tuesday (T), Wednesday (W), Thursday (T) etc.
•Lower Left Dial:
-Displays the month i.e. Jan (J), Feb (F), March (M) etc.
An automated caliber VH198 with 43 jewels runs this watch. The power reserve is approx 60 hours. The sapphire glass supports the 40 mm diameter round case. The crown is made up of 24 gold rivets.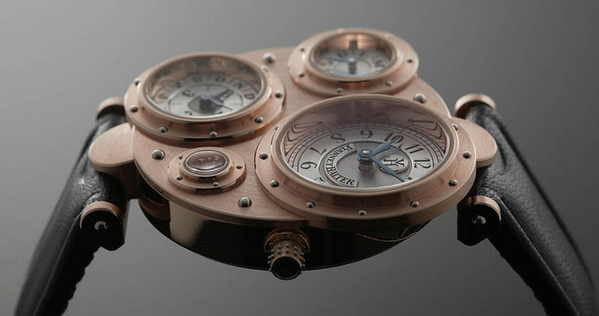 This watch has so many stuff on the face that it gets confusing. I can appreciate the level of intricacies of manufacturing but visually, not appealing to me.