Honestly, this watch costs the same as a yacht! Very nice but I won't dare you it actively – too precious!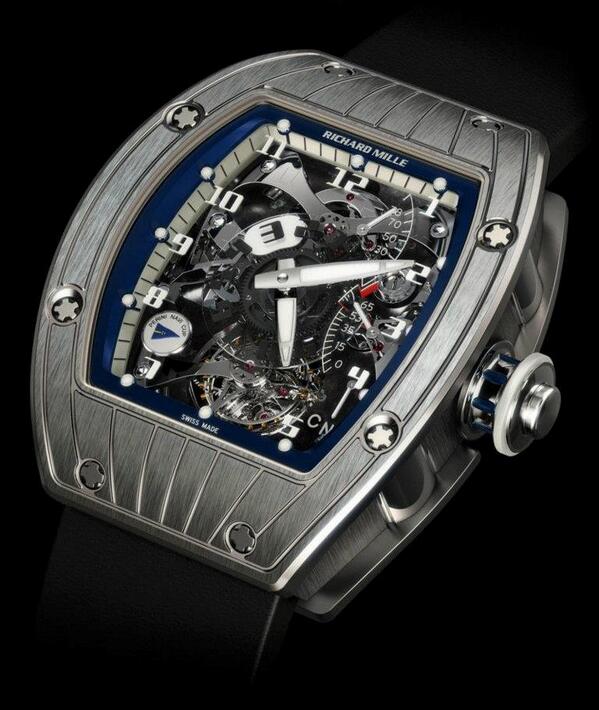 Richard Mille is the official timekeeper of the Perini Navi Cup, one of the most exclusive regattas in the world. Inspired by the world renowned and extraordinary sailing vessels created by the yacht builders Perini Navi of Viareggio, Italy, the RM 015 echoes the visual elements and nautical details found on these luxurious craft. The high-tech design begins at the movement plate itself where carbon nanofiber construction means better rigidity between the plate and the bridges and enhanced stability at temperature extremes. Mainspring tension is displayed on a torque indicator that's positioned between 2 and 4 o'clock on the transparent dial. To set or wind the Perini Navi, you first engage a push-button located mid-crown to select a 'gear'. A hand at 4 o'clock displays the selected position: 'C' (Carica) for winding, 'N' (Neutral) for wearing, and 'L' (Lancette) for hand setting.
The a tonneau-shaped case is finished in 18kt gold or white gold case with dimensions of 48mm length x 39.3mm width x 13.84mm thickness. The transparent caseback enables a clear view of the manual winding tourbillion movement. 8 titanium spline screws hold the case together for better control of torque during assembly. The watch has a skeletonised dial with white Arabic numerals, tourque indicator at 3 o'clock, function selector between 4 and 5 o'clock, 23 jewel calibre RM015 manual-winding tourbillon movement, a 75 hour power reserve indicator between 1 and 2 o'clock, and is water resistant to 50 metres.